Since 2004, when Poland joined the European Union, there has been a steady increase in the number of foreign tourists visiting Poland. This trend was only temporarily reversed in 2008-2009 due to the global economic crisis. Subsequently the UEFA European Championship in 2012 held in Poland and Ukraine started a resumption of growth.
This year will see a record increase in the number of foreign tourists mainly due to the World Youth Days held in Krakow in July and also following recent terrorist attacks in more popular Western European destinations – forecasts Magdalena Gocłowska, valuer in Polish Properties. Not only has this affected the increase in the number of foreign tourists but also on the number of domestic tourists deciding to spend their holidays in the country. Also Poland is benefiting from "medical tourism" given its resource of highly educated doctors offering services at below Western European rates.
During the first quarter of 2016 some 7% more domestic tourists spent holidays in Poland compared to the same period of 2015 and 11% more foreign tourists. In the whole of the previous year the number of foreign tourists staying in Polish hotels increased by 4% compared to 2014. Since 2012, Polish hotels have been occupied by over 4 million tourists annually from abroad and the number is growing by an average of 7% annually. We estimate that in 2016 this number will exceed 5 million tourists.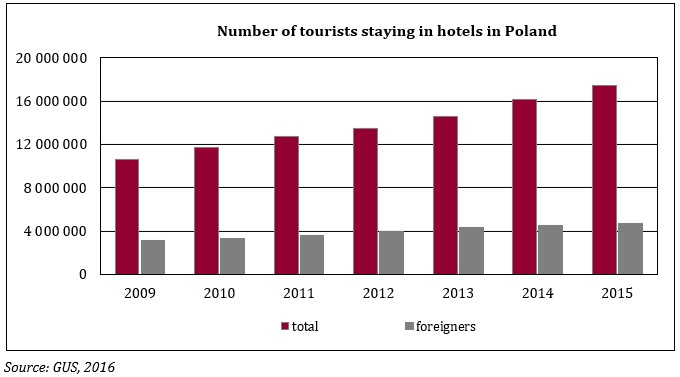 The influx of foreign tourists has positively impacted hotel occupancy rates across all starred categories. Since 2004, the annual occupancy rate has stood at over 40% reaching last year's record level of 48.3%. Also, the first quarter of 2016 has seen an occupancy rate of 39.2% up from 37.5% in 2015.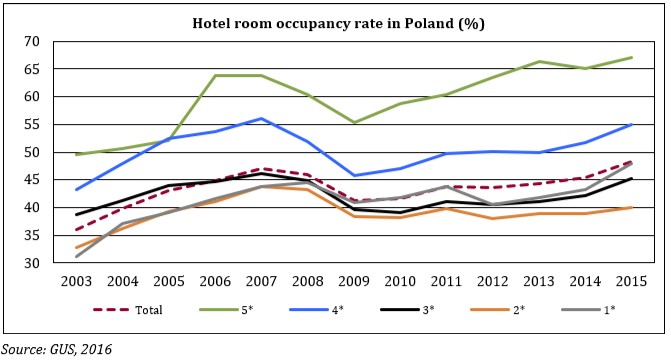 All this good news about occupancy levels is feeding through to increasing hotel values.
The annual volume of investment transactions in the hotel market in Poland in the last 10 years has amounted to approximately € 1 billion whilst in the last 18 months it exceeded € 160 million. The main hotel transactions in recent months included the sale of the 5- star Radisson Blu in Wrocław, the Sheraton in Warsaw (part of a portfolio transaction) and 4- star Andel's in Łódź. In the last quarter of 2015 we also noted forward purchase agreement for the acquisition of the Holiday Inn Warsaw City Centre hotel. At the same time there has been a noticeable increase in the interest in budget hotels located in the regional cities, for example the sale of the 3- star Mercure hotels in Lublin and Zamość.
As noted by Marcin Malmon, Director, Valuation Services in Polish Properties "Today the average market value of a hotel room in the 5- and 4-star hotels in Warsaw, Kraków, Tricity, Wrocław and Łódź is ca € 177 000. Whilst the value differences in the best hotels in these cities are minor, the differences in the value of budget hotels could differ by as much as 50%. The value per room of budget hotels in Warsaw falls in the range of € 80 000 – € 100 000, but in regional cities values could drop to € 30 000."