Values of prime office buildings in Warsaw have begun to rise again. At the beginning of 2021, the average value of 1 m2 of prime office space in the centre of Warsaw stood at around € 4 500/m2 with some transactions concluded at €1 000/m2 higher.
The increase has been driven by improved market sentiment. During the first half of this year yields fell to almost pre-pandemic levels. Investors have returned to offices after a yearlong pause due to the pandemic. In the first quarter of 2021, sales of office buildings amounted to 50% of total property investment volume, up from 37% in 2020. The most notable transactions in Warsaw concluded at above € 5 000 per m2 included the sale of the 6 600 m2 Le Palais office by Patrizia AG to Generali Real Estate and the sale of the 16 000 m2 Villa Offices by Echo Investment to KGAL Group.
However, the increasing values so far have only applied to the best buildings in the best locations. Lower-quality properties have not yet returned to their 2019 value levels.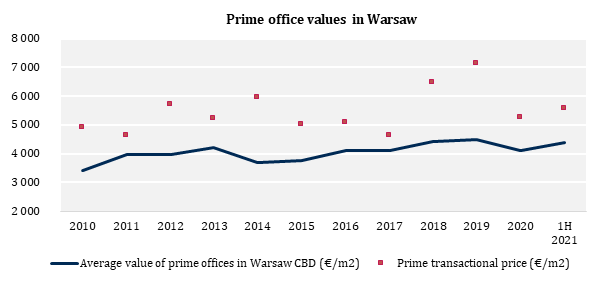 Before the pandemic, increasing values of prime office buildings had been driven by yields falling to below 5% (from 7% observed 10 years ago). At the same time, prime headline rents remained relatively stable at between € 23 and 26/m2 per month. However, during the peak of the pandemic, office yields temporarily increased and values declined.
The current concern appears to focus around the stability of rental income with sentiment being less optimistic than that of the investment market. The amount of office space leased in 2020 decreased in Warsaw by over 30% compared to 2019, and in the first quarter of 2021 there was a decrease of over 20% compared to the same period of 2020.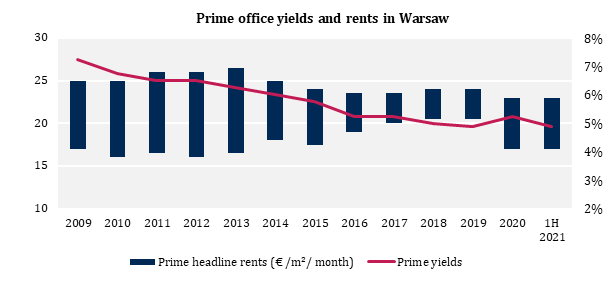 The work from home environment has weighed heavily on demand and workspace requirements. Furthermore, there is a current oversupply of offices in Warsaw. In 2020, the construction of 314 000 m2 office space was completed, this being the second highest amount recorded in any year. The record was broken in 2016, which saw the completion of over 400 000 m2. Another 168 000 m2 was delivered in the first quarter of 2021 with a further 150 000 m2 expected by the end of the year.
Such supply, coupled with decreasing demand during the current crisis has led to the vacancy rate increasing to 11.4% from 7.4% recorded at the end of 1st Q 2020. In addition, 120 000 m2 of office space in Warsaw is being offered on sublease, the latter not being included in the vacancy statistics. Unsurprisingly development activity has paused with only few new construction starts this year.
Notwithstanding an expected fall in office rents, the simultaneous compression of yields has led to an increase in the value of the best office buildings. At the same time the disparity between high and lower end properties continues to widen.