The number office investment transactions in the main regional cities of Poland have picked up significantly. The purchase of office buildings in Kraków, Wrocław, Łódź and Tricity in the first 9 months of 2015 has outstripped the volume in Warsaw at an unprecedented share of 60%.
According to the Polish Properties research, by the end of 3rd Q 2015, total office investment volume in Poland was close to € 700 million most of it in respect of buildings outside of Warsaw.
For the first time ever, the dominance of regional markets has become so evident. In contrast office investment volume in regional cities over the preceding 5 years has been at between 7% and 29% of the total.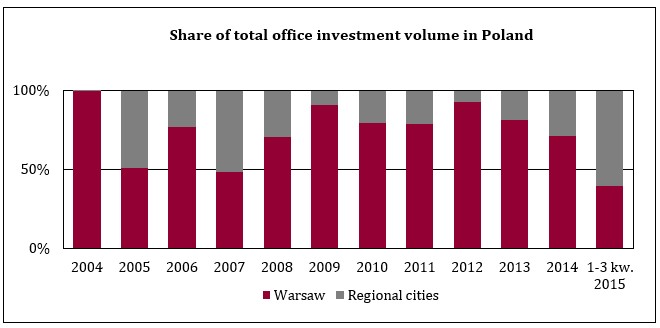 Of the three largest office transactions completed in 1st – 3rd Q 2015 only one concerned a property in Warsaw. This involved the sale of 50% of the shares of Empark Mokotów Business Park by Heitman to Immofinanz Group, now the sole owner of the complex, at an estimated price of € 90 million. The property comprises nine A and B class buildings totalling 117 000 m2.
The emergence of an active investment market in the regional cities of Poland is an indication of the maturity of the Polish market as a whole. High quality office buildings in central locations, increasing occupier demand, stable rental levels and limited vacancy rates make local markets highly attractive to investors. The result has been a fall in prime office yields in regional cities to around 7% compared to Warsaw 6%.
About Polish Properties and Our New Licensed Valuer
Polish Properties monitors the commercial real estate market on a continual basis. In the last 10 years we have valued almost 2 000 properties to a total value of Euro 25 billion including 500 offices, 200 warehouses and industrial properties, 430 supermarkets and shopping centres, 80 hotels and recreational properties, 350 residential complex or land for residential purposes and 500 development sites for different purposes industrial and warehouse, office and agricultural properties. We also value many specialist properties such as golf courses, hospitals, wind farms, petrol filling stations and data centres.
Our valuation team includes 5 licensed valuers of whom 3 are also Members of the Royal Institution of Chartered Surveyors (RICS) and 3 who have also been awarded the prestigious title of Recognised European Valuer (REV). Most of our valuers have also gained valuation diplomas in connection with mortgage lending work and are listed by the Association of Polish Banks.
Polish Properties pleased to congratulate Magdalena Gocłowska on recently passing the national valuation examination, thus adding to our team of fully qualified and licensed valuers. Magdalena also benefits from several years experience as a market analyst having joined Polish Properties in 2008.