By Dorota Lachowska, Head of Market Research Polish Properties
The real estate investment market in Poland is experiencing unprecedented growth. Transacted investment volume continues to grow and the prime yields have fallen to record low levels of 5% for offices and retail and 6.4% for warehouse properties.
In 2018 the total investment volume reached € 7.3 billion, 59% more than in 2017 and 46% more than in the previous record breaking year of 2006. That said, such high volume was mostly the result of a single record breaking transaction concerning the sale of 28 M1 shopping centres in Poland totalling 704 000 m2 at a price of € 1 billion. The latter represented a blended yield of around 8%. The portfolio was purchased by Chariot Top Group BV from funds managed by Ares, AXA and Apollo Rida.
Notwithstanding the lack of a repeat transaction of similar size, in 2019 the number and value of transactions that have taken place or are under negotiation so far this year is impressive. Thus in in the first half of 2019 we have recorded transactions totalling €2.6 billion and we expect the total investment volume for the year to reach € 6 billion.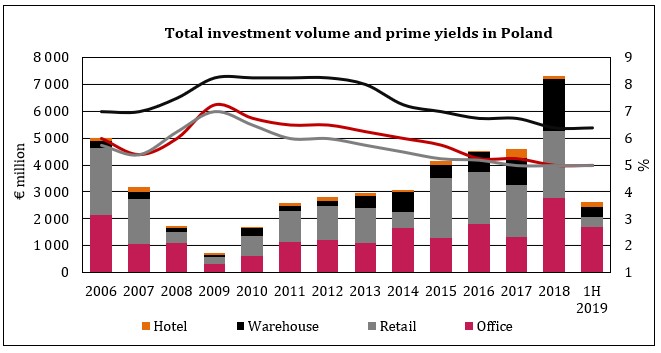 Office investment transactions constitute the largest share of the total investment volume with a growing take up of space, a decreasing vacancy level and rising rents.
Of particular note has been the sale this year of Warsaw Spire Tower – the 2nd tallest building in Warsaw. The 220 m tall, 65 000 m2 fully leased property was sold by Ghelamco and Madison International Realty to Immofinanz for € 386 million – the highest price ever paid for an office building in Poland. The price represented an initial yield of slightly above 5%.
Investors have also been attracted in droves to the warehousing sector and Poland has the great potential of becoming a leader in the European warehousing sector given its size (the sixth most populated country in the EU), good economic prospects, improving infrastructure, good land availability and competitive labour costs.
As a result the warehouse investment volume in 2018 increased to a record €1.9 billion (11% of the total investment volume). In the first half of 2019 the demand for industrial and warehouse properties remained at a high level with the total value of transacted properties amounting to € 383 million (15% of the total investment volume).
The gap between industrial/warehousing and office yields has also narrowed or evened out as in the case of an Amazon warehouse in Szczecin. The 161 500 m2 fully leased facility was sold in 2018 by Invesco to Vestas Investment Management for € 110 million at a yield of 5.15%. Also two warehouses let on long term leases to Amazon and Eurocash located in Wrocław and Konin were sold by Balckstone to South Korean Mirae Asset Global Investments for €120 million representing a yield of 5.5%.
As regards the retail sector of the 28 M1 shopping centers mentioned above, 8 were subsequently resold to EPP in a transaction of 2 tranches (€ 358.7 million in 1Q 2018 and € 221.8 million in 2Q 2019) at yields of between 6.4% to 9.2% depending on location. Whilst these transactions added to a high retail investment volume, the share of the investment volume in the retail sector has decreased noticeably to 15% in the 1st half of 2019 from 42% in 2017 and 34% in 2018). This may indicate a shift in interest amongst investors towards the office and warehousing sectors in line with a pan-European trend.
In conclusion, the positive real estate investment sentiment currently observed is likely to continue. A sustainable economic performance of the country together with the wide availability of high class products at lower prices than in Western Europe make Poland the go to investment destination of Central and Eastern Europe.